Chocolate Chip Cookies!
Ingredients
2 1/4 cups all-purpose flour

1 1/2 teaspoon baking soda

1 1/2 teaspoon salt

1/2 cup (1 stick) butter, softened

3/4 cup granulated sugar

3/4 cup packed brown sugar

1 teaspoon vanilla extract

2 large eggs

1-1 1/2 cup(s) Nestle Toll House Semi-Sweet Chocolate Chips
Directions
Preheat oven to 375

In a small bowl, combine the flour, baking soda, and salt

In a separate large mixer bowl, beat together the butter, granulated sugar, brown sugar, and vanilla extract until the dough is creamy

Add the eggs, one at a time, beating the dough well after each addition

Gradually beat in the flour mixture

Stir in the chocolate chips

Scoop out rounded tablespoons of dough and place 2 inches apart on foil covered baking sheet (lightly coat foil with cooking spray)

Bake for 8 to 10 minutes, or until golden brown

Leave on the baking sheets for 2 minutes and then remove the cookies to wire racks to cool completely

Nom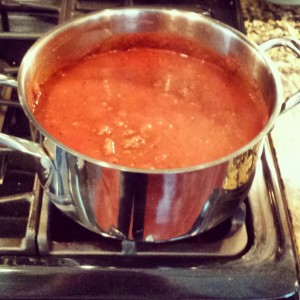 Spaghetti Sauce!
Ingredients
2 lbs ground beef

2 29oz cans tomato sauce (this will be with the canned tomatoes in the store)

Minced onion

Minced garlic

3 tsp Onion powder

3 tsp Garlic powder

2 tbsp Italian seasoning (in the spices aisle)

3-4 tsp Ground white pepper

4 tsp Onion salt

Salt to taste
Directions
Brown ground beef in large pot over medium-high heat, breaking into small pieces with spatula

While beef is browning, add minced onion & garlic

If there is a large amount of grease, drain excess

Reduce heat to medium-low and add both cans of tomato sauce

Fill one empty can with water and transfer to other can (basically cleaning excess tomato sauce)

Add water to pot

Add all spices

Cover and cook for 30 minutes, stirring occasionally

Remove cover & simmer over low heat for additional 1-2 hours, until sauce is thickened

Cook pasta according to package directions (don't forget the garlic bread)

Nom

Biscuits!
Ingredients
2 cups flour

1 cup buttermilk

1 1/2 tsp salt

1 1/2 tsp baking soda

2 tsp baking powder

4 tbsp Crisco©
Directions
Mix dry ingredients together in large mixing bowl

Add Crisco© and whisk

Add buttermilk and mix well with fork until mixture follows fork

Put mixture on floured board (wooden cutting board will work)

Pat mixture with floured hands until 1/2 inch thick

Using medium sized biscuit cutter (dipped in flour often), cut out biscuits

Pour vegetable oil onto cookie sheet with raised edges

Place biscuits onto sheet making sure to cover both sides of biscuit with oil

Bake at 450° – 12-14 min

Nom
Pancakes!
Ingredients
3/4 cup milk

1 egg

2 tbsp melted butter

1 cup flour

2 tsp baking powder

1 tbsp sugar

1 tsp salt

1/2 cup chocolate chips (if desired)
Directions
Preheat oven to 350

Lightly grease 8×8 glass baking dish

In large bowl, whisk together milk, egg, and butter

Add sugar, then gradually add flour, baking powder, and salt

Add chocolate chips (optional)

Pour batter into baking dish

Bake for 30 minutes

Test with toothpick

Nom