Whew, this has been a crazy couple of weeks. Let me just say that again. Whew. I moved to a new house last weekend – so so soo lucky that I had an enormous amount of help from boyfriend, my two older brothers, and bestie! I'm pretty much settled in now (even unpacked all of the boxes!), and I really like this place. It's cozy. My little guy Scout is getting acclimated pretty quickly too; we took him for a long walk yesterday, and I guess he was pretty much worn out afterward. Here he is later in the evening, enjoying his new roommate's couch.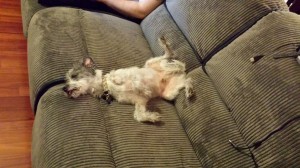 Yup. He's super classy.
Well I did finally finish the decoupaged book case that I've been working on – last week was crunch time, because I really wanted to get it finished before the big move. I think it turned out really well; I know I'll definitely be decoupaging more items in the future. It's too easy & fun not to do it often. 🙂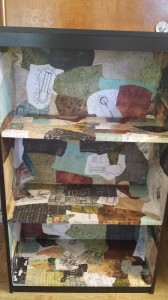 So long for now, and may your couches always be comfy.